Cross-country skiing / Skating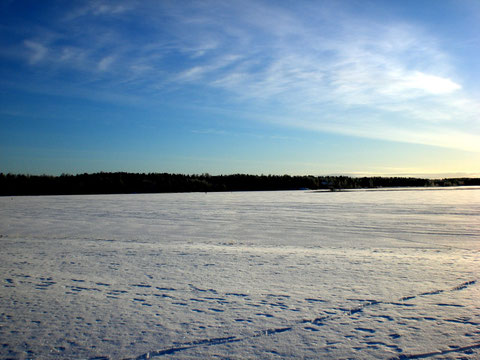 Cross-country skiing trails at Lake Päijänne

In front of the house some cross-country skiing trails are prepared by the adjacent owners.
Most of them start at the common sauna, 300 m from the house.

Enjoy the quietness and largeness of frozen Lake Päijänne on a clear blue und sunny arctic winter´s day!
After skiing have a sauna in the log house. Relax at the cosy fireplace in the living room later on.
Illuminated cross-country skiing trail near the center of Sysmä

There is an illuminated cross-country skiing trail on "Orasaari", an island near the center of Sysmä.
It can be reached from the bay in the center of Sysmä or from the parking area at the church.

Downhill
At Purnu, 40 km

Skating

There is a skating area at bay of Sysmä.

 
For more information, please contact Sysmä Tourist Info.
Equipment
Besides our offer, further outdoor equipment (cross-country skis / skates) can be bought or rented at the sport shop "Urheilu Valonen" in the center of Sysmä.

Have a lot of fun at frozen Lake Päijänne.
Yours sincerely

Sunny Mökkis